Sai Gon
Independence Palace
Former names: Norodom Palace
Type: Presidential Palace
Address: 135 Nam Ky Khoi Nghia Street, District 1, Ho Chi Minh City, Vietnam
Construction started: 1 July 1962
Completed: 31 October 1966
High: 26m – 4 floors
Floor area: 120,000 sq m
Design and construction: Architect Ngô Viết Thụ and Engineer Phan Văn Điển
Independence Palace (Dinh Độc Lập), also known as Reunification Palace (Vietnamese: Dinh Thống Nhất), (formerly called Norodom Palace), is a landmark in SaiGon. It was designed by architect Ngô Viết Thụ. It was the workplace and home of the President of South Vietnamd from 1966 to 1975. It was the ending point of the Vietnam War on April 30, 1975, when a North Vietnamese Army tank crashed through the gates.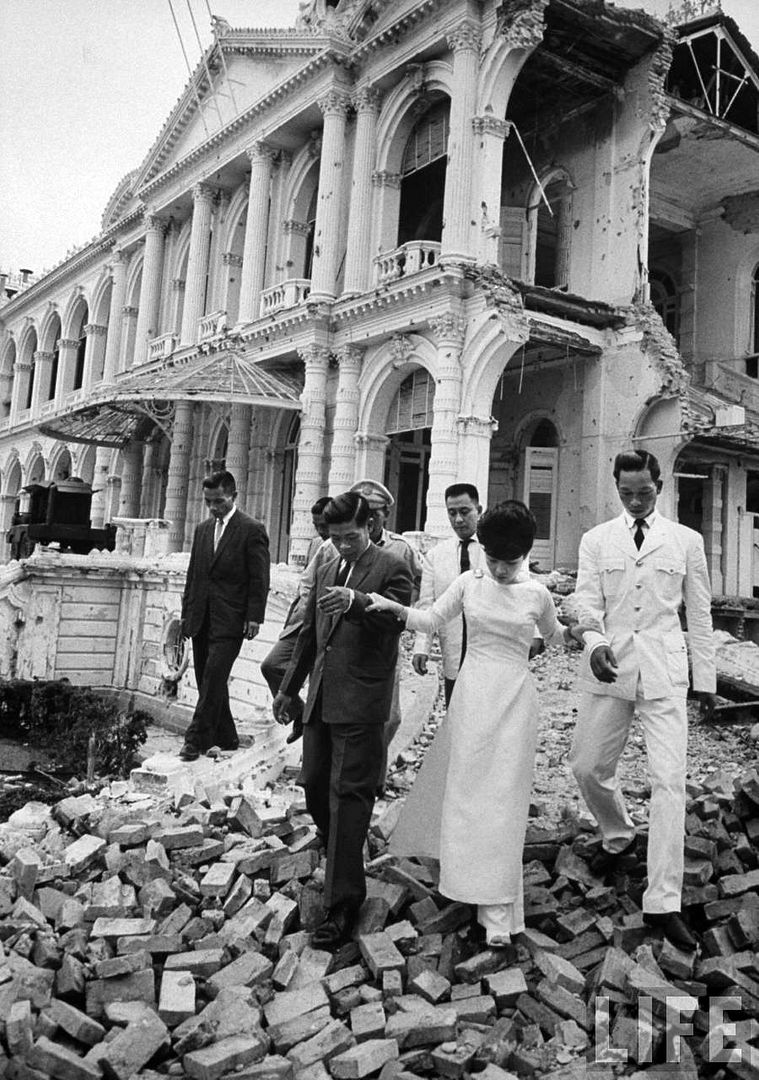 War Remnants Museum
Type: War museum
Address: 28 Vo Van Tan, in District 3, Ho Chi Minh City (Saigon), Vietnam
Established: 1975
The War Remnants Museum exhibits some artifacts, images relating of the Vietnam War to save the remnants of the heroic people of Vietnam and to denounce the crime and highlights the disastrous result of the aggressive war.
Besides that, The Museum contains exhibits relating to the first Indochina War
Notre-Dame Cathedral Basilica of Saigon (Duc Ba Church )
Type: Church
Address: 1, Cong Xa Paris, Ben Nghe Ward, District 1, Ho Chi Minh, Việt Nam
Completed: 1880
High: 57 m
Design: Architect Jules Bourand
Notre Dame is one of the most unique buildings in Saigon, has always attracted the attention of domestic and foreign tourists. It not have fence and all the original building materials were imported from France.
Tiles have been carved with the words Guichard Carvin, Marseille St André France.
56 glass squares supplied by the Lorin firm of Chartres province in France, It describes the characters and events in the Bible. when light shines on displayed splendid aura
Cu Chi Tunnels
Type: Tunnel
Address: Cu Chi District, Ho Chi Minh, Việt Nam
Length: over 200km
Cu Chi tunnels is one of the most famous historical of Viet Nam war.
About 70km away from Ho Chi Minh City's centre, Cu Chi tunnel is the miniature of the creative struggles and hardships of Cu Chi people and soldiers in the barbarous fight.
People dug many hundred miles tunnels that connected with another like a ant's nest. It have the ventilation systems at the bushes. It is the underground network to connect the Cu Chi District with the centre of Saigon.
Tunnel system, including the clinic, many rooms, kitchen, storage, office.
Tunnel was built with simple tools, was camouflaged the doors with dry leaves so nobody could find them.
The Cu Chi Tunnels highlight the dedication and ingenuity of Viet Nam soldiers during the Vietnam War
There is a must-see destination in Southern Vietnam.
PLATINUM CLUB TOUR
Platinum Club Tours offers exclusive VIP accss to the hottest local night clubs in Ho Chi Minh City (HCMC). If you are planning a trip to HCMC and looking to party be sure to book a Night Club Tour with Platinum Club Tours, a new and unique way to experience nightlife at it's best in Saigon
You and your guests will enjoy a personal chaperone through out the entire evening, VIP access with line by pass to the top night clubs in HCMC, full VIP table service, Fruit platters, range of mixers, shisha and of course Unlimited X.O. Bottle Service!
For an evening of fun, excitement and all out partying book your tour today!
*Siver Package
This is for the people who really do like a go party and don't like to break their wallet, Experience a weekend in Saigon filled with Partying. If it is a special occasion then this is the party packge for you
-1 Platinum Club Tour Party Tacket
-Block Out Dates Apply
-Free Flow Alcohol
-Dinnn
SAIGON BOAT
Cruise Station :
– Boat station at district 1: Hoang Sa Park, opposite 01 Hoang Sa St, Dakao ward, Dist 1, Ho Chi Minh city.
– Boat station at district 3: Hoang Sa park, opposite 671 Hoang Sa St, Ward 7, Dist 3, Ho Chi Minh city.
Nhieu Loc – Thi Nghe is part of the canal system of Ho Chi Minh city. Associated with the reclamation of land and development in Sai gon, Nhieu Loc – Thi Nghe from a long standing natural canal, has become a familiar name. From the time of Sai Gon-Gia Dinh citadel to Ho Chi Minh City at present: Thi Nghe area is part of the history and culture of noisy and gaudy Saigon
The boats depart from the cruise station at district 1 or at district 3. With a length of over 4.5 kilometers, passing 4 central districts of the city. You will see a dynamic, peaceful and romantic Saigon that is completely different from other cities. The 1 hour's cruise past some beautiful temples with ancient and modern architecture and famous bridges that link the history of existence and development of Saigon. You have a chance to see and learn about the daily life of city dwellers on both sides of the canal.